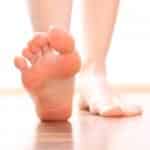 National Diabetes Week, which runs from 14 to 20 July 2013, aims to raise awareness of all types of diabetes and its impact in our community. Many people may not be aware, but the feet are commonly affected by diabetes. Diabetes can affect circulation and sensation in the feet, making podiatry care vitally important for the diabetic foot.
Without proper care, people with diabetes are at risk of severe foot disease complications, not least of which is amputation. Australia has one of the worst diabetes-related amputation rates in the Western world. In fact, it is estimated that every week 85 Australians lose their toes, feet or even their legs because of diabetes complications.
It's important that we raise awareness of diabetic risk factors affecting the feet, which is why Entire Podiatry are offering free 10-minute podiatry consultations as part of National Diabetes Week, for people in the local community who have diabetes. The purpose of these consultations will be to provide some basic education on foot health care and advice for any further podiatry needs that may be identified.
It's important for people with diabetes to know how to inspect their own feet, and what to look for when purchasing shoes and socks, to help prevent foot complications. Regular reviews with a podiatrist are important for people with diabetes, so that signs of more serious problems are identified early.
If you or someone you know has diabetes, book a free 10-minute consultation with Entire Podiatry during National Diabetes Week. Freecall 1800-4-ENTIRE or contact one of our clinics directly. Appointments are limited and are subject to availability, from 14 to 30 July 2013 only.