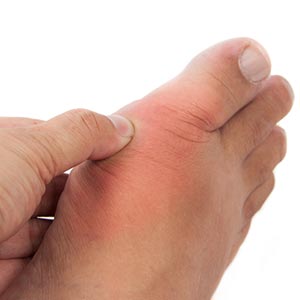 What is Hallux Rigidus?
Big toe joint arthritis (otherwise known as Hallux Rigidus) is a form of degenerative arthritis. In this condition, surfaces of the joints in the big toe begin to wear away and extra bone develops (bone spurs or osteophytes) that limit movement of the joint.
The big toe joint is very important because it needs to bend significantly when stepping. Consequently, arthritis in this joint can greatly impact participation in daily activities.
Hallux Rigidus is a progressive condition that tends to get worse with time. In it's earlier stages, it may be referred to as Hallux Limitus, which is where there is limited movement of the big toe joint. With progression, Hallux Rigidus can result in being unable to move the big toe joint at all. Early diagnosis and treatment gives the best chance of avoiding surgery.
Diagnosis is usually confirmed by physical examination and x-ray.
What does Hallux Rigidus feel like?
People with Hallux Rigidus have pain in the big toe, particularly when pushing off or bending the toe (activities such as stepping, squatting, climbing are often painful). Stiffness develops in the big toe joint and there may also be swelling. To compensate for pain in the big toe joint, people with Hallux Rigidus tend to adjust their walking pattern which can also result in knee, hip or lower back pain. There is often difficulty finding shoes that fit properly shoes due to bony growths (bone spurs).
Many people who have Hallux Rigidus mistake their symptoms for a bunion. Bunions and Hallux Rigidus affect the same joint but are very different conditions requiring different treatment.
What causes Hallux Rigidus?
The big toe joint is designed to bear a considerable amount of stress during walking. However faulty biomechanics or structural abnormalities such as flat feet can stop the big toe from bending normally, and eventually lead to the development of osteoarthritis (a 'wear and tear' type of arthritis) in the big toe joint.
Other factors that can increase the risk of Hallux Rigidus developing include genetics (eg, having a certain foot type), injury to the big toe (such as stubbing the toe), other inflammatory diseases, and working in a job that places excessive stress on the big toe joint (eg, if lots of stooping/squatting is required).
How is Hallux Rigidus treated?
In cases of Hallux Rigidus, certain types of footwear may be recommended to reduce pressure and motion of the big toe. Your podiatrist will be able to provide footwear advice for your individual needs.
In addition to correct footwear, orthotics can assist to restore normal movement of the big toe so that stress on the joint is reduced. This treatment can help to address the cause of Hallux Rigidus. Custom orthotics that conform very closely to the arch of the foot are most effective in improving big toe joint function.
Ice and anti-inflammatory medication may be recommended to reduce inflammation and pain. (Although ice and anti-inflammatory medication can provide symptom relief they do not address the underlying cause of the condition).
If Hallux Rigidus does not respond to conservative treatment, surgery may be recommended. However, surgery is not without risks and does not stop progression of the condition. Surgery is generally only recommended as a last resort.