Archies Arch-Support Thongs
Real Arch Support
Super Comfy Material
No Breaks or Blowouts
Tighter Strap
Extremely Light Weight
Why choose Archies thongs?
Archies Thongs are comfortable, arch-supported thongs with 2.2cm of orthotic support. They look the same as normal thongs, but the arch support found within Archies Footwear supports the foot far more than flat thongs.
They look great and feel great too. Less foot pain and they may also help keep your ankles, knees, hips and body in alignment, reducing leg strain and pain.
They are ideal for people with pronation of the feet, Plantar Fasciitis, anyone recovering from injury, or wanting to reduce strain on the knees and hips. For this reason, Archies thongs are particularly popular among athletes. In fact many elite sports teams have banned their athletes from wearing flat thongs due to the negative effects they can have on joints and muscles.
Archies enable you to walk for longer distances in thongs without pain, making them the perfect thongs for travelling where large amounts of walking will be done.
They are Australian owned and operated, designed by a physiotherapist from Melbourne. They are made out of an unbelievably comfortable, high quality foam material.
The team at Entire Podiatry highly recommend Archies thongs due to their arch support and other key features.
Key features:
Real Arch Support - Up to 2.2cm of orthotic support encourages optimal foot posture aiding whole body alignment.
Super Comfy Material - Specialised closed cell foam material is formulated to mould to your foot.
No Breaks or Blowouts - Our ultra-strong one-piece design makes the thongs virtually indestructible.
Tighter Strap - Your toes don't have to grip to keep your thongs on, allowing you to walk all day without overusing muscles and tendons in the feet.
Extremely light weight design which allows more optimal foot function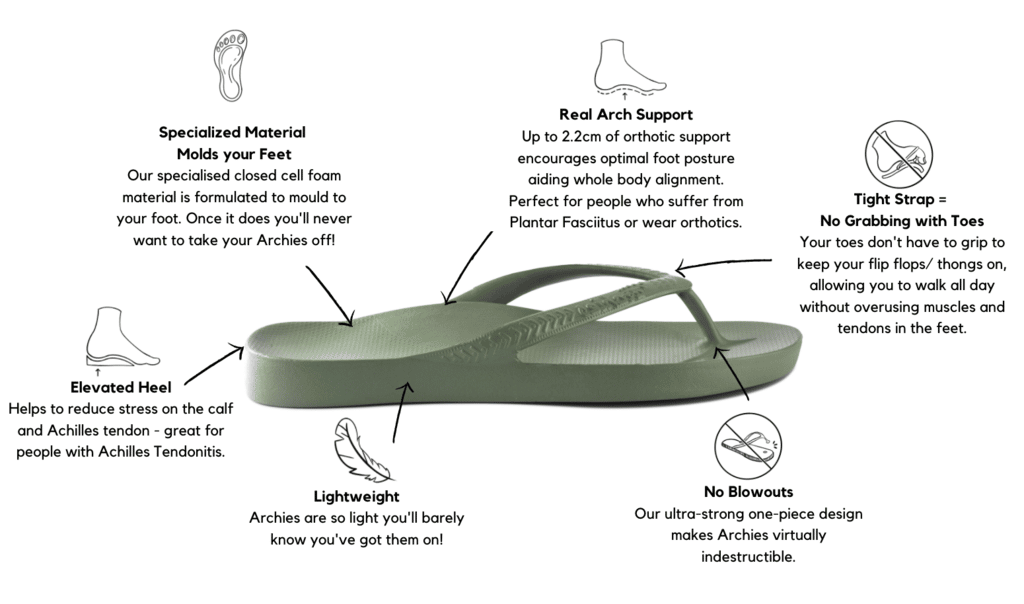 Available in black or navy
Size Guide
Archies are a unisex thong ranging in sizes from 5-14. For women's and men's sizing, in Australian, European, UK and US conversions, view Archie's sizing guide here.
Archies Thongs sizing will be very close to your normal running shoe size. We suggest selecting your normal shoe size for an Archies thong. If you normally wear a half size, we recommend that you size down for narrow feet and size up for wide feet.
Free Returns & Exchanges
Order the wrong size? Contact us and we will organise return postage and swap them over for you.
30 Day Comfort Guarantee
Try Archies Thongs for 30 days. If you don't absolutely love them simply pay the return postage and we'll give you a refund.
Thongs! What are thongs?
Thongs are summer footwear in Australia, known as flip flops in the US or jandals in New Zealand.
Additional information
| | |
| --- | --- |
| Weight | 0.5 kg |
| Colour | Navy, Black |
| Size | US Men's 4 / US Wonen's 5, US Men's 5 / US Women's 6, US Men's 6 / US Women's 7, US Men's 7 / US Women's 8, US Men's 8 / US Women's 9, US Men's 9 / US Women's 10, US Men's 10 / US Women's 11, US Men's 11 / US Women's 12, US Men's 12 / US Women's 13, US Men's 13 / US Women's 14, US Men's 14 / US Women's 15 |