What is a 'Medi Pedi'?
A Medical Pedicure or a 'Medi Pedi' is a medical grade pedicure. This means that your pedicure is carried out in a safe and sterile medical environment by trained and qualified professional podiatrists. It's a way of ensuring that your feet are in safe hands.
As podiatrists we deal with all things feet. Every day we see and treat nasty complications from nail salons. We've seen countless ingrown toenails from poor nail cutting techniques. If we had a dollar for every time our patients describe the horror they've felt once they've removed the nail polish from a salon pedicure to find an unsightly fungal infection has developed…!
Podiatrists are very qualified to treat all of these complications that commonly arise from nail salons such as fungal infections, bacterial infections, ingrown toe nails and warts. However, we strongly believe that prevention is much better than cure! And that's where a 'MediPedi' comes in- a safe and professional alternative to a traditional pedicure that still leaves you and your feet feeling and looking fantastic!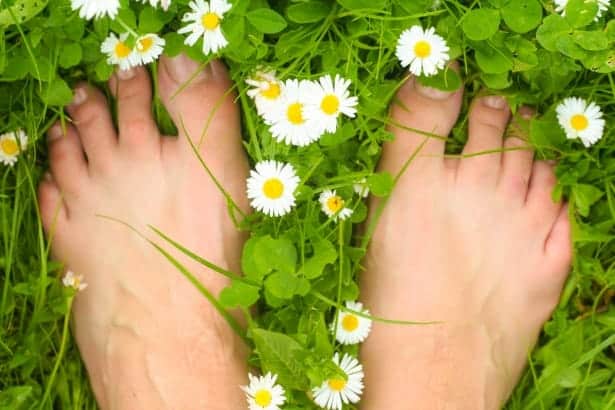 What happens during a Medical Pedicure?
During your 'Medi Pedi' service the podiatrist will assess your feet and talk to you about particular concerns you may have regarding your feet, skin and nails. We will also discuss on-going treatment that may be required to address any foot problems you may have.
Firstly, the feet and nails are cleansed. The nails are cut and filed and a burr is used to thin the nails if needed. Thinning the nails removes the outer layer of the nail plate to restore their natural colour and remove yellow discolouration/staining from previous nail polish. If the nails are considerably thickened then thinning them with the burr will improve their cosmetic appearance and can reduce any discomfort. If there are any signs of ingrown nails the podiatrist will fix this.
The podiatrist will then use a sterile blade to painlessly remove any corns or callus if these are present. Any hard or rough skin is buffed away to ensure you are left with a smooth finish.
As part of your 'Medi Pedi' service we finish up with a paraffin wax foot treatment. This involves submerging your feet in a warm wax bath. The warm waxy coating is left on your feet for up to 15 minutes. This heating sensation is wonderfully relaxing and also pain-relieving for arthritis sufferers. Once the wax is peeled away your feet are left hydrated and moisturised and feeling soft and supple. The podiatrist will then apply an emollient moisturising cream to your feet whilst giving a gentle massage to improve circulation and restore your joint's movement.
What makes a pedicure a medical grade pedicure?
The biggest different between a Medical Grade Pedicure and a traditional nail salon pedicure is that the treatment is carried out by a podiatrist rather than a technician. Podiatrists are fully qualified health care professionals. They have completed a university degree and are the experts at looking after all aspects of your feet. Podiatrists know their stuff!
This means that in addition to ensuring your feet get pampered and feel wonderful, the podiatrist is able to identify, diagnose and treat any foot problems that you may have. For example, if we identify a fungal infection in your toenails or your skin we aren't just going to ignore it (and we definitely wont spread it to others!). Instead, we will discuss treatment options that we have available. We are qualified to answer any questions you have about your feet.
Whilst anyone would benefit from a podiatrist's pedicure, podiatrists are experts in managing especially difficult nails. Be they thickened, brittle, painful, discoloured or ingrown, at Entire Podiatry we have all the right tools and equipment to safely manage even the most 'difficult' nails.
Whilst a regular nail salon may be 'shave' the superficial layer of dead or hard skin away from the foot. Podiatrists are qualified and skilled in the use of medical scalpel blades to fully remove callus and corns. The feet and skin are then buffed to give the same silky smooth finish.
Another considerable point of difference between a medipedi and traditional pedicure the adherence to strict hygiene standards. As podiatrists we are held to strict standards of infection control. All of our instruments are sterilised immediately after use using an autoclave to ensure complete destruction of any disease-carrying microorganisms. Regular nail salons are not held to these same regulatory standards as a Podiatry medical clinic, which is why their risk of infection is so high.
What are medical spa pedicures?
We want your 'Medi Pedi' experience to be one of luxury and an experience that you will remember. But we want you remembering it for the right reasons- not because your pedicure left you with an infection that stayed with you for years!
This is why at Entire Podiatry we choose to perform a 'dry' pedicure rather than a 'spa pedicure'. The foot spas that you see in nail salons are perfect carriers of disease. Even after the water has been drained there can still be microorganisms, especially fungal cells and wart viruses which remain alive in the drains and pumps of these spas. So when you place your feet in one of these baths you may inadvertently be picking up an infection from the person who used the bath before you.
When we say 'dry' pedicure this doesn't mean there's no luxury. We still cleanse the feet first with an alcohol based solution. We buff, shape and file our nails using a water drill. This drill sprays out a steady stream of diluted alcohol, this creates a nice cooling effect on your feet to ensure the burr does not get uncomfortably hot against your skin and nails. The water drill also catches most of the dust that is created to ensure that you and your podiatrist aren't breathing in anything nasty. And of course your treatment is finished off with a paraffin wax bath and a healthy lathering of moisturising cream massaged into your feet.
Medical pedicure cost
Please contact our clinic for medical pedicure prices.  As all our podiatrists at Entire Podiatry are qualified and registered health professionals, you should be able to claim your 'Medi Pedi' service on your private health insurance if you are covered for podiatry.
Toenail reconstruction near me
Not all Medi Pedis require toenail reconstruction, but if you do have serious nail damage, all our podiatrists are trained in the application of KeryFlex to remodel your damaged nail if required. KeryFlex is made from a composite resin to create a flexible, porous but durable nail which attaches to your natural nail. This 'artificial' nail will grow out with your natural nail beneath. The Keryflex nail is unaffected by acetone, nail polish or soap and detergents.
Keryflex can be used in the short term as a cosmetic 'fix' if your nail has been damaged. It is also used for those who have permanent nail pathology, which is unable to be treated such as nail fungus, nail defects, thickening, discolouration or trauma. Whilst KeryFlex is not designed to 'heal' any nail pathology it can be applied over the nail to give a natural healthy look to the nail.
Read more about Keryflex nail reconstruction…
Where can I access a medical pedicure in Brisbane?
Entire Podiatry have 10 clinic locations across Brisbane, Moreton bay, Logan and the Gold Coast so there is sure to be a medical grade pedicure near you. If you are curious about this new 'pedicure medical' trend, we encourage you to experience one first hand and see the difference. Call us or book an appointment online here.