What is rheumatoid arthritis (RA)?
Rheumatoid arthritis (RA) is an autoimmune disease that causes the immune system to attack the lining of the joint capsule (synovium), resulting in inflammation and joint damage. RA usually affects smaller joints in the hands and feet but can also affect larger joints such as the hips and knees.
RA is a chronic and progressive illness. There is currently no cure for RA, however there are many helpful treatments available.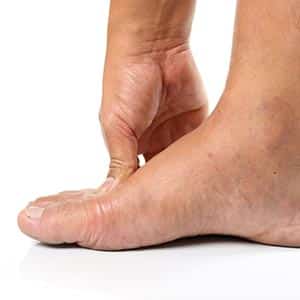 What does RA feel like?
RA commonly causes pain, swelling and tenderness in the affected joints. There may be joint stiffness, particularly in the morning. RA is usually symmetrical, affecting the same joints on both sides of the body.
Many people with RA experience periods when the condition flares up, and this may be followed by periods of little inflammation. RA can cause permanent joint damage and deformity, however early diagnosis and treatment can help to limit joint damage.
In severe cases of RA in the feet there is weakening of supportive structures such as ligaments, causing the toes become contracted and stiff and to point away from the big toe. Pain may also be felt in the ball of the feet due to retraction of the toes. Other signs associated with RA in the feet include:
Development of nodules in the feet
Prominent forefoot bones
Thickening of skin on the bottom of the forefoot
Swelling
What causes RA?
It is not known what causes RA. The risk of developing RA has been associated with smoking and/or having a family history of the condition.
How is RA treated?
If your feet are affected by RA then podiatry treatment is recommended to limit symptoms and joint damage. Podiatrists are able to provide advice to protect the joints in the feet such as wearing extra depth wide shoes and using special padding to reduce pressure on the top of the toes.
Research has shown that custom foot orthotics are useful to improve comfort and reduce pressure on the front of the foot caused by RA. Orthotics can also help to reduce the onset of retraction of the toes that often occurs with RA. Your podiatrist will be able to provide advice on the most appropriate treatment for your condition.