Diabetes is a complex disease that can affect many parts of your body, including your feet. In relation to the feet, diabetes can cause two main problems:
Loss of sensation (nerve damage or peripheral neuropathy)
Restricted circulation and blood flow (peripheral vascular disease)
This means that people with diabetes may not feel (or 'sense') the symptoms of foot problems, and foot injuries or infections may take longer to heal due to reduced blood flow.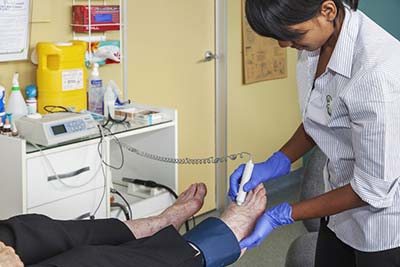 If you have diabetes, even minor or ordinary foot problems can lead to serious complications. For this reason, it is recommended that you see a podiatrist at least annually, to help detect any changes early before they become a problems. You should arrange to see your podiatrist immediately if something on your foot is not healing or if you find a red swollen area on your foot.
Self-care of feet is particularly important for people with diabetes. If you have diabetes, it is recommended that you inspect your feet every day, looking at each foot for signs of injury including blisters, bruises, cracked or broken skin, cold or hot areas, corns and calluses, and discolouration.
At Entire Podiatry, we are able to conduct Doppler assessments and we also perform neurological assessments of the lower limb, to identify any problems such as reduced circulation and neuropathy as early as possible. The earlier we can identify these problems, the better opportunity we will have to prevent more serious complications from developing.
Related Information