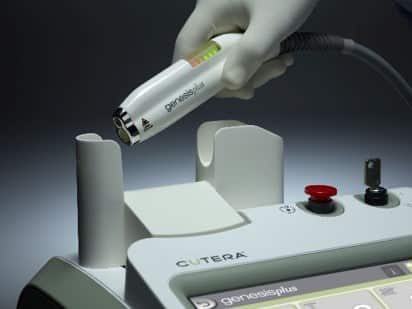 Laser therapy is an exciting new technology that improves the available treatment options for people with fungal nail.
There are a few different types of laser systems available for fungal nail treatment. At Entire Podiatry we have been keeping an eye on the various laser systems, and by looking at the results both overseas and interstate, we're convinced that the Genesis Plus Laser system will offer the best chance of superior results for our clients. For this reason, we are proud to be the first podiatry group to introduce the Genesis Plus laser system to Queensland.
The Genesis Plus laser is an ND:YAG1064 laser that is safe and effective for the treatment of fungal nail infection.
How does the Genesis Plus work?
Laser light from the Genesis Plus passes through the nail and the surrounding tissue. The laser light is absorbed by the pigment in the fungi, which causes the pigment to heat to 40 to 42 degrees Celsius. This heat kills or damages the fungal organism, and can subsequently result in your nail growing normally.
Check out the video below animation to see how the Cutera GenesisPlus Laser system works to treat toenail fungus.
Why do we use the GenesisPlus laser system?
In addition to being a powerful and effective laser, the Genesis Plus has a digital temperature feedback to enable operator's to monitor the temperature of the nail being treated. This is an important feature that is unique to the GenesisPlus. The GenesisPlus also has a larger spot size of 5mm, and offers the greatest depth penetration.
Although clinical results vary between patients, early studies indicate that 65-70% of patients treated with this system show significant nail improvement. To date, at Entire Podiatry our initial clinical results have shown an improvement in 80-85% of cases that we have treated with the Genesis Plus laser system.
What does the treatment regime involve?
We recommend a course of three laser therapy sessions for fungal nail, in combination with pre– and post– care treatment instructions which are designed to prevent re-infection during the course of treatment.
Are there any side effects?
The most common side effect reported by patients is mild discomfort associated with the heat/warmth generated by the laser. Other complications are also possible although rare, and may include skin changes and infection. There is a requirement for anyone in the room during laser treatment to wear protective glasses which we provide, due to the risks of eye exposure to the laser.
Are there any contraindications to laser therapy?
There are some contraindications and precautions associated with the use of laser therapy and your Podiatrist will discuss these with you in detail prior to commencing any laser treatment plan. For example, laser therapy is contraindicated during pregnancy, and additional precautions may be required if you have a skin condition (such as vitiligo) or peripheral neuropathy.
Talk to your podiatrist for more information or specific advice regarding your fungal nail, including laser treatment protocols and costs.
References:
Kimura, U. et al. (2012). Treating Onychomycises of the Toenail: Clinical Efficacy of the Sub-Millisecond 1,064 nm Nd:YAG Laser Using a 5mm Spot Diameter. Journal of Drugs in Dermatology, 11(4): 496-504.
Weiss, D. (2011). 3 Month Clinical Results Using Sub-Millisecond 1064 nm Nd:YAG Laser for the Treatment of Onychomycosis. Hammonton, NH: Weiss Foot and Ankle Centre.