What is hammertoe?
A hammertoe is a deformity of the proximal interphalangeal joint of a toe, which causes the joint to be permanently bent down. Hammertoe usually affects the second, third or fourth toes. The affected joint can be flexible, but will generally become stiff over time.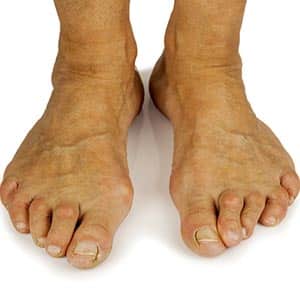 What causes hammertoe?
Hammertoe is often caused by wearing poorly fitting shoes which force the toe into a bent position. For example, high heels or shoes that are too tight for the foot. A toe that is forced into a bent position for long periods can lead to shortening of ligaments and tendons, resulting in the hammertoe deformity.
People with certain medical conditions can also be prone to developing a hammertoe deformity (eg, arthritis, stroke, diabetes).
A hammertoe deformity can cause pain when shoes rub on the toe joint. This rubbing can result in inflammation, corns, calluses or ulceration. Increased pressure as a result of the hammertoe can also cause calluses to form on the bottom of the foot.
How is hammertoe treated?
Conservative treatment is usually able to relieve pain and symptoms of hammertoe and can include:
Footwear advice (to ensure shoes have enough room in the toe box to avoid pressure on the toes)
Supportive orthotics (to relieve pressure on the hammertoe and help the foot to function normally)
Splints or small straps to help realign the toe
Trimming or padding of corns and calluses (if present)
Anti-inflammatory medication may be recommended in some cases
Non-surgical treatment can help to relieve pain, but will not straighten or correct the hammertoe deformity. If conservative treatment is not successful then surgery may be recommended to straighten the toe.