The Complete Guide To Buying Children's School Shoes
Buying school shoes for your child can be tough. With school dress codes, budgets and growth spurts all thrown into the mix – there is a lot to consider. Before you start your school shoe shopping, check out this interactive guide to help make finding the perfect pair of school shoes for your child, easy.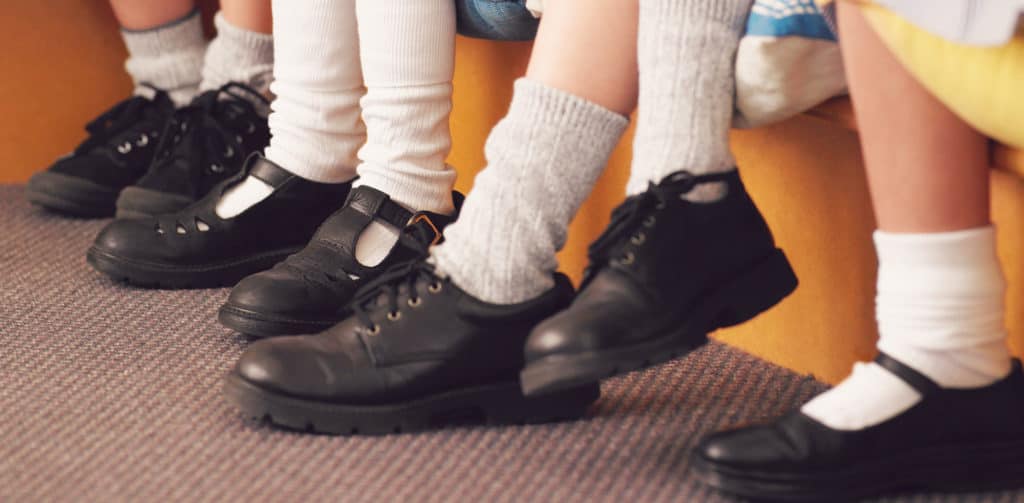 Before you shop
It is important to remember that shoes are the most important part of your child's school wardrobe, as they will be wearing them for 35 to 40 hours per week. Because of this, it should be a top priority to find shoes that are comfortable, supportive and – above all – the perfect fit. An ill-fitting shoe can lead to long-term problems with their feet, legs and spinal health, so it is best to get it right from the start.
Before heading to the shops, you will need to answer a few questions:
What style of shoe will you be buying? Will you look for a more traditional leather school shoe or a running/training shoe? Perhaps both!
How active is your child?
How much money are you willing to spend?
To answer these, there are a few things to consider.
Dress Code
First, find out if the school has any regulations about what kind of shoes your child can wear. Some schools will enforce a stricter dress code and only allow full black leather shoes, whilst others will allow kids to wear nearly any type of enclosed shoe.
Running Shoes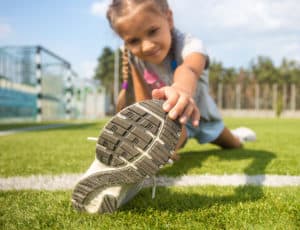 Lots of children wear running shoes as their main school shoe. However, it is important to understand that running shoes are made for – as the name suggests – running. The tread is only designed to go in one direction and as soon as your child starts changing direction on the playground (e.g. stopping, starting and making other sudden movements) the sole will wear away very quickly. This means that the shoe will need to be replaced more regularly, well before your child grows out of the shoe.
Activity Level
Another factor to consider is how active your child is. If they are very active and don't have dress-code restrictions, you may want to opt for a cross-trainer. These shoes usually have better ankle support, a deeper tread and will last much longer than a standard running shoe. If they are active and also have a strict dress code, shop around for a leather shoe with a sportier and more robust tread.
Budget for Growth
Depending on how old your child is, you will need to think ahead about how many pairs of shoes you will need to buy this year. Children's feet grow in spurts; expect these shoe size changes:
The 2 to 3-year-old: Grows one-half shoe size every four months
The 3 to 4-year-old: Grows one-half shoe size every four to six months
The 4 to 8-year-old: Outgrows shoes every six months
The 9 to 12-year-old: Outgrows shoes every six months to 12 months
What features to look for
Once you have decided what kind of shoe you will be buying and your budget, you need to know what features to keep in mind. Simply hover over the images below to understand what to look for in your child's leather or running shoes for school:

Hover over the icons in this interactive image to see what key features we recommend seeking and avoiding in a school shoe.
What features and types of shoes to avoid
As well as understanding what positive attributes to look for when shopping, there are also some features and styles of shoes that should be avoided. It is recommended to:
Avoid buying shoes that are too heavy, which will be harder to walk in and could cause pain.
Avoid buying overly stiff, thick-soled school shoes. These kinds of shoes reduce sensory information getting through to the brain.
Avoid buying rubber clogs (e.g.: crocs) as school shoes. They are not suitable for all-day use. They offer no heel stability and as toes tend to grip they can lead to tendonitis, worsening of toe deformities, nail problems, corns and calluses.
Avoid buying ballet flats as they have no cushioning or support, which can lead to heel pain, plantar fasciitis and pain under the ball of the foot.
Wearing in shoes
Once you have bought your shoes, it is important to allow some time for your child to wear them in before school starts. How do you go about it? Here's our advice:
It's best for children to wear in school shoes gradually, one to two weeks before they have to wear them for full school days.
School shoes and socks can be worn for short periods at home, starting with one hour per day, and increasing by an hour each day.
Ideally, your child should be able to tolerate wearing their school shoes and socks at home for five consecutive hours before starting to wear them for school.
If your child is experiencing any pain, redness or skin irritation when wearing their new school shoes, it is important to get it checked out by a podiatrist. A poorly fitted shoe can lead to more serious problems later down the track.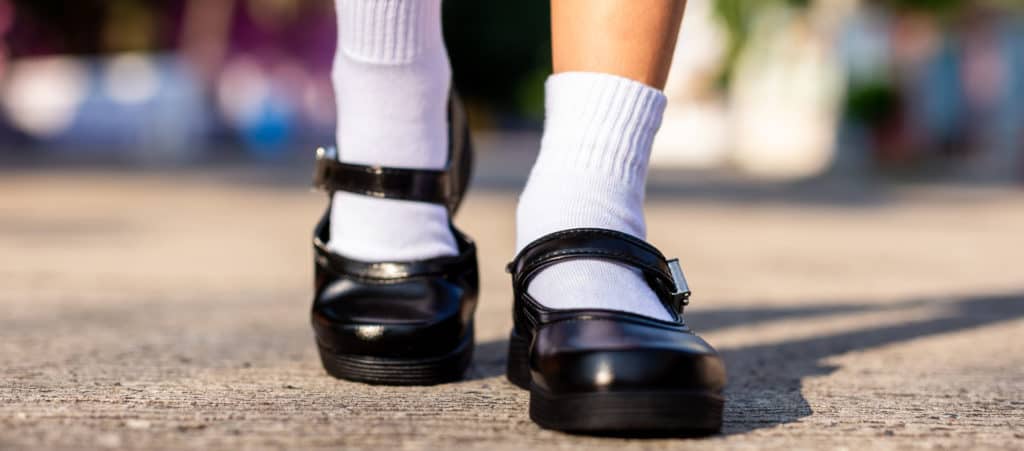 There you have it. By now you should be more confident about how to shop for the perfect school shoe. If you still have doubts before going shopping, this is the ideal time to seek advice from your podiatrist. In these one-on-one sessions you will find out what type of feet your child has and what shoe will fit them best. Properly fitting footwear is critical to support and protect vulnerable and growing feet – after all, your child's health is always what's most important.