Biomechanics refers to the study of physical laws which govern human movement. As podiatrists, we are especially interested in the relationship between biomechanics and conditions affecting the foot and lower limb, which may also impact higher in the body such as in the hip and low back.
Through understanding biomechanical abnormalities, we are able to identify faulty biomechanics that may require correction. At Entire Podiatry, we conduct biomechanical gait analyses using specialised equipment to assist with the diagnosis of musculoskeletal, mechanical foot and lower limb problems. Our gait analysis program enables us to look specifically at the function of your foot and lower limb, identifying faulty biomechanics to guide appropriate treatment.
Following a biomechanical gait analysis, we may prescribe a number of treatments to improve foot function. This can include stretching and strengthening exercises, activity advice, orthotics or footwear modification.
Zebris Gait Analysis Biomechanical Treadmill
It's an inevitable fact of running that injuries can occur. If we consider that 2-3 times our body weight goes through out feet as we run, its not surprising that most running injuries affect the lower limbs. These injuries can be debilitating and can lead to extended periods of time of inaction.
In a 2007 study they looked at long distance runners and where the most common sites were for injuries.  Listed below is a breakdown of where these runners tended to get injuries in the lower limbs:
Knee 50%
Lower leg 26%
Foot/ankle 11
Hip/pelvis 9%
Thigh 3%

     

1
Zebris Gait Analysis
We are proud to introduce the use of state-of-the-art equipment into our Toowong  clinic to achieve the best possible gait analysis for our patients.
The Zebris System is the latest advancement in computerised gait assessment or gait analysis. The system involves a treadmill with over 7000 inbuilt individual pressure sensors. Using this technology we are able to create a complete picture of your gait and biomechanics by understanding how the pressure and force is carried through your feet as you walk, stand and run. This pressure and force technology is combined with the use of 2 high speed cameras which allow us to analyse your gait frame by frame to provide precise quantifiable information about your gait and biomechanics which was previously unattainable.
This technology is very rarely found in clinical practice. This has traditionally been a research tool and used only in advanced settings only as the Australian Institute of Sport and universities. However the applications and benefits to our patients are too valuable to keep confined to research.
So what does all this mean

?

If you are a runner of any type, from a competitive triathlete wanting to improve your sports performance to someone curious to see what all the Parkrun fuss is about, it will be invaluable to have your running gait assessed using the Zebris Gait Analysis system.

Prior to the introduction of this technology gait analysis was primarily performed visually. This means that there were no hard and fast figures or values, rather things were 'eye- balled' and can vary a lot depending on the practitioner.

This technology allows us to identify specific, subtle changes to your running gait to improve sports performance. Without this technology it can be difficult to see an observable change with the naked eye to ensure we are on the right track with our treatments and recommendations. Now with this technology you can see these changes and how they affect your running gait right before your eyes.
So how does a running gait analysis help with managing injuries and increasing efficiency?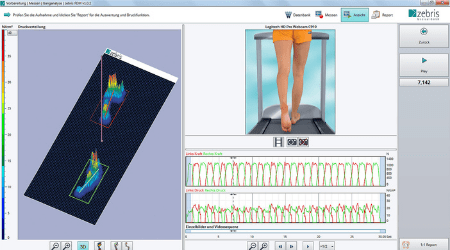 It's all about making you a better runner by looking holistically at your running gait biomechanics rather than just the specific part of the body that is injured. This gives us insights into how and why your injury occurred, how to heal it and how to prevent recurrence!
For example, this technology allows us to look at things such as crossing over of the legs when running or excessive dropping of the pelvis. These can be signs of weakness in the gluteal muscles. Weak gluteals can alter your running biomechanics and can overload the knee leading to injury.
Knee injuries when running is common and includes runner's knee (or patellofemoral pain syndrome), iliotibial band syndrome, ligament strain and meniscus tears.  The most common foot pain and foot injuries from running is plantar fasciitis, stress fractures, achilles tendonitis, sesamoiditis, medial tibial stress syndrome (or shin splints from running) and calcaneal apophysitis (or severs disease) in children and adolescents.  If you have sustained an injury or had surgery, such as an ACL reconstruction, then we can measure the different gait parameters and then treat the gait deficits. 
The Zebris technology also allows us to look into asymmetry. Does one foot carry more force or pressure than the other? Are you more symptomatic on one side than the other?
Not only does this technology show us if one foot carries more force or than the other foot it also allows us to figure out why this is happening.
For example, if one foot is carrying more pressure under the ball of the foot this may be because of tightness in the calves on one leg or even a difference in the length of your legs.  If you have heel pain from running then we can measure this data and have a better understanding of the cause by seeing the differences in the feet.
Over-striding or under-striding is another common contributor to running injuries. Everyone has a different ideal cadence (steps per minute). This technology allows us to view your gait frame by frame to determine the appropriate cadence for you to reduce your chance of injury.
Being about to understand why your issues are developing can ensure we are treating the cause of the problems rather than just the symptoms.
Is the Zebris gait analysis assessment just useful for runners and athletes?
Not at all! The information generated by this incredible technology is useful for everyone.
The Zebris gait analysis system also assesses walking gait and stance. Regardless of your physical ability or presenting complaint, this technology will allow us to understand your biomechanics, which can give valuable insights into any foot or lower limb issues you may have.
Diabetic patients
Diabetes can have serious effects on the feet. Foot ulcers and amputations are among the more sinister complications of diabetes. However very often this is preventable.
In diabetic patients, if areas under the foot carry too much pressure this can lead to skin breakdowns and ulcerations.
The pressure mapping technology with the Zebris System shows us exactly how much pressure is carried under the foot and precisely where it is carried. With this information we can predict if you are at risk of skin breakdown and ulceration.
The benefit this can have for preventing pressure ulcers in diabetic patients cannot be understated.
Traditionally these high-pressure areas go unnoticed, so the first signs that the foot is carrying an unhealthy amount of pressure is either pain, corns or callus formation, or skin breakdown/ulceration.
Now we are able to able to detect problems before a more serious issue occurs. Using this information we can develop preventative strategies to offload these areas. For example changing shoes, adding padding or soft material to the base of the shoe or pressure deflective orthotics.
Children
Kids will also benefit from a biomechanical assessment using the Zebris system. For example, a common condition we see in children is in-toing or being 'pigeon toed'.  Treatment for in-toeing usually consists of exercises to strengthen and stretch certain muscles which are contributing to the legs being positioned inwards. Another treatment includes 'gait-plates' which are a specific type of orthotic innersole. This innersole improves the child's gait by making it more comfortable and efficient for the child to walk with their legs and feet facing forward.  The Zebris biomechanical assessment generates quantifiable data about your child's mechanics. With this data we can appreciate the exact degree that your child is in-toeing or out-toeing and understand how well they are responding to treatment.
Older patients
The technology of the Zebris system can be very useful for older patients. Areas of high pressure beneath the feet is a concern for the elderly. Corns, callus and ulcers can develop under the foot when certain parts of the foot carry too much pressure.  The Zebris pressure analysis system detects these high-pressure areas that are at risk of developing problems. With this information we are ale to implement pressure deflective measures inside the shoe to stop these issues occurring.
Falls are a main cause of morbidity and disability in the elderly. This technology analyses your centre of pressure when standing. This allows us to prescribe simple exercises to improve your postural control, stability, strength and balance.
In conclusion
Entire Podiatry are the first clinic in the world to take delivery of the custom built Running Room treadmill which has made us amongst the leaders in the podiatry field. The Directors of The Running Room confirmed this in a letter detailed below:
Dear Chris
The choice to purchase The Running Room Treadmill has you amongst the leaders in the podiatry field, worldwide. This latest biomechanical technology from Germany has been proven through various clinical studies to provide practical gait analysis to achieve accurate assessment and outstanding outcomes for your patients with conditions such as leg length discrepancy, running injuries, and other foot and lower limb pathologies.
Furthermore, we are thrilled to advise you are not only the first podiatry clinic in Queensland, but the first clinic overall in the world, to take delivery of the custom built Running Room Treadmill. As an early adopter, Entire Podiatry can offer the highest level of German technology to analyze how your patients stand, walk and run. Through the accurate assessment of force, pressure, motion capture as well as other relevant kinetic and kinematic variables you are on the forefront of data driven health care.
We look forward to supporting you as your clinic continues to be a leader in the podiatry field.
Yours sincerely,
Alex Bell & Quinton Le Fevre
Directors, The Running Room Technologies
This latest biomechanical technology from Germany has been proven through various clinical studies to provide practical gait analysis to achieve accurate assessment and outstanding outcomes for our patients.  The types of areas and conditions we can treat include the following :
Running injuries, and other foot and lower limb pathologies.
Leg length discrepancy
Footwear advice
Improve balance
Reduce little aches and pains
Prevent injuries and pressure related ailments
Entire Podiatry can offer the highest level of German technology to analyze how our patients stand, walk and run.   Through the accurate assessment of force, pressure, motion capture as well as other relevant kinetic and kinematic variables Entire Podiatry are on the forefront of what's available within gait assessment and the use of instrumented treadmills within the clinical setting.  Together we can implement strategies to improve your technique, increase your performance, reduce your injury risk, reduce your pain or simply improve your balance.
By using this research grade equipment and having this actionable data then can then validate our interventions.  Ultimately we find that this makes both the podiatrist and patient accountable and motivated to get the best results possible.
References:
Van Gent RN et al, "Incidence and determinants of lower extremity running injuries in long distance runners: a systematic review" . Br J Sports Med. 2007 Aug; 41(8):469–80. 1