Biomechanics refers to the study of physical laws which govern human movement. As podiatrists, we are especially interested in the relationship between biomechanics and conditions affecting the foot and lower limb, which may also impact higher in the body such as in the hip and low back.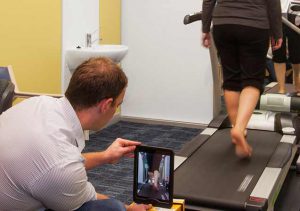 Through understanding biomechanical abnormalities, we are able to identify faulty biomechanics that may require correction. At Entire Podiatry, we conduct biomechanical gait analyses using specialised equipment to assist with the diagnosis of musculoskeletal, mechanical foot and lower limb problems. Our gait analysis program enables us to look specifically at the function of your foot and lower limb, identifying faulty biomechanics to guide appropriate treatment.
Following a biomechanical gait analysis, we may prescribe a number of treatments to improve foot function. This can include stretching and strengthening exercises, activity advice, orthotics or footwear modification.