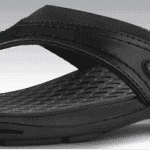 Thongs are a staple item of clothing for Australians during summer! But how many of us notice increased pain in the arches of our feet when we wear our thongs for too long? Particularly if you already experience any pain or foot problems, there is a good chance that wearing thongs will make your pain and symptoms worse.
But fortunately, at Entire Podiatry we stock a range of thongs that provide arch support so you can still enjoy wearing thongs, but with less chance of pain or discomfort. Our range of thongs are designed by podiatrists, and feature a built-in orthotic footbed, providing better support for your feet.
While the support from these thongs won't be as effective as custom-made orthotics, they are a great option for times when you're not wearing your orthotics, or for anyone who just wants a pair of comfortable thongs. With a stylish design, available in red or black, these thongs will make a great addition to any wardrobe (ladies and men's styles are available).
And here's the best part, this Summer Entire Podiatry have a special offer for our patients buy any pair of Podiatrist-designed thongs from an Entire Podiatry clinic, and you can purchase a 2nd pair for only $70 (that's a saving of $50)! Simply print out this article and bring it in to an Entire Podiatry clinic to take advantage of this fantastic offer. (Offer valid until 29 February 2012).