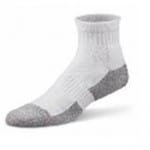 Choosing a pair of socks is often something that people give little thought to, but not wearing proper socks can increase your risk of foot related problems such as foot pain, blisters, fungal infections and foot odour.
Here are some tips from the team at Entire Podiatry, to keep in mind when choosing your next pair of socks:
Look for socks that are made of synthetic fibres, which are more effective at keeping your feet cool and dry than natural fibres such as cotton. One of the problems with cotton is that if it gets wet, it stays wet, which can cause problems with sweaty feet, blistering or fungal infections. Synthetic fibres have a better wicking capability, drawing moisture away from your skin.

Socks that have thicker padding will be more effective at preventing blistering. This is particularly important for socks that you are wearing to exercise for long periods.

If you have a condition such as diabetes, look for socks with a flat, soft toe seam, moisture wicking capability, and anti-fungal or antibacterial properties. Dr Comfort are an example of socks made specifically with the diabetic foot in mind.
At Entire Podiatry, we recommend Dr Comfort socks to maximise your foot health. These socks are great for anyone who wants their feet to be comfortable, and are also suitable for people with diabetes, arthritis, oedema, neuropathy or circulation issues. Dr Comfort socks include Nano Bamboo Charcoal Fibres which help to promote blood circulation and are also a natural deodoriser. Dr Comfort socks come in a range of men's and women's styles and sizes.
This month, Entire Podiatry are offering a special deal on our range of Dr Comfort socks…. at your next consultation, you can purchase any two pairs of Dr Comfort socks and pay only $30 (that's a saving of $14). Bring a copy of this article to your consultation at any Entire Podiatry clinic, and you can take advantage of this fantastic offer. Your feet will thank you for it! (Offer valid until 31 May 2012).