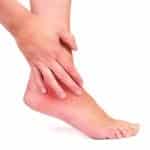 Peroneal tendonitis is an inflammation of the peroneal tendons in the foot. The peroneal tendons (of the peroneus longus and peroneus brevis muscles) run from the outside of the lower leg, behind the ankle and down along the outside (lateral side) of the foot.
So what does it feel like to have peroneal tendonitis? This condition usually causes pain and swelling along the course of the peroneal tendon. If you have peroneal tendonitis, you may feel pain along the outside of your foot, ankle or lower leg, particularly when you are active, for example, when you are walking, exercising or standing. People with peroneal tendonitis will often also have instability of the affected ankle joint.
Discomfort due to peroneal tendonitis will usually occur gradualy, increasing over time if aggravating activities are continued. In the initial stage of peroneal tendonitis, you may only notice the pain when you are active, but if the condition progresses you may feel pain even when resting.
Diagnosis of peroneal tendonitis is usually made on clinical examination, however referral for an MRI scan or ultrasound may be recommended to confirm the diagnosis. Depending on clinical examination and the length of time that symptoms have been present, a range of treatment options may be offered, such as anti-inflammatory medication, exercises, footwear advice and orthotics.
Orthotics for peroneal tendonitis are designed specifically to reduce tension on the inflamed peroneal tendon. To be effective, your podiatrist will usually recommend prescription or custom made orthotics which perfectly contour to the arches of your feet. Special wedges may also be added to help decrease tension on the peroneal tendons. The correct orthotic for peroneal tendonitis will usually help to not only reduce your pain and assist with healing of the inflamed tendon, but also to help prevent recurrence of the problem.
For assessment and treatment advice for foot or ankle pain, call us on 1800-4-ENTIRE to make an appointment today.