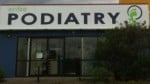 Some exciting news for Entire Podiatry is the recent opening of our new clinic in Logan Central. This clinic is conveniently located at Shop 1, 1 Wembley Road (next to the Tenpin Bowling Centre). While Entire Podiatry have offered podiatry services in Logan for several years, our new clinic has been fitted out with new equipment and facilities to provide optimal podiatry services to the Logan community.
A range of podiatry services are available at our Logan clinic including general foot care, treatment for children's foot conditions, diabetes-related treatment and orthotic and footwear prescription. Podiatrists at our Logan clinic are also able to provide Doppler assessments to check the circulation in the feet. Doppler assessments are recommended for anyone who has diabetes or peripheral vascular disease.
We stock a range of footwear at the Logan clinic including Dr Comfort footwear which comes in a range of sizes and widths, with some styles available from size 4.5 to size 16.
If you need to visit a Podiatrist in Logan, come into our Entire Podiatry clinic for an appointment with Andrew Kang. Andrew is able to provide all podiatry services, however he has special interests in treating diabetes-related foot conditions, children's foot conditions and sports injuries. In early 2012, we will also have another Podiatrist joining the team and working at the Logan clinic.
Appointments are currently available at our Logan clinic on Monday, Wednesday, Thursday and one Saturday per month. If you would like to make an appointment to see one of our Podiatrists at Logan, please contact us on 07 3299 2222 or call 1800-4-ENTIRE.