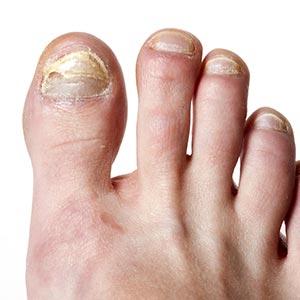 Fungal nail infections are a common ailment that can be easily spread from person to person. Fungal nail infections are often contracted by walking barefoot in public swimming pool changerooms or showers, as these are perfect environments for the fungus to thrive.
Other factors that could make you more prone to a fungal nail infection include having moist skin, which can occur if your feet sweat in closed-in shoes or from not drying your skin properly. If you have minor skin or nail injuries on your feet, this will also make your feet more susceptible to infection.
Although effective treatment options are available, fungal nail infection can be difficult to eradicate. As with most things, it's best to try and prevent the infection from developing in the first place. So what are the best ways of avoiding fungal nail infections? Here are our quick top tips for preventing fungal nail infections:
Thoroughly dry your feet after bathing
Wear moisture-wicking socks and change these regularly if necessary
Allow moisture to escape from your feet by wearing sandals or dry roomy shoes
Minimise trauma to the toenails by making sure your shoes are not too tight
Wear footwear (such as thongs) when walking in public changerooms or showers
Don't share socks, shoes, nail clippers or nail files with others
Fungal nail infections can be difficult to treat and prone to recurrence. If you think you may have a fungal nail it is always best to see a podiatrist to confirm a diagnosis and ensure appropriate treatment to get on top of the problem as quickly as possible. Click here for more information about fungal nail infections.
For further advice make an appointment with Entire Podiatry. Contact your nearest clinic directly or Freecall 1800-4-368473 (that's 1800-4-ENTIRE).