It's that time of year again, with many parents now beginning to prepare their children for starting back at school later this month. One important aspect of this is equipping your child with a good pair of school shoes, which is not always as easy as it sounds.
It can be difficult to navigate through the range of expensive school shoes available for children, which is why we want to give parents of school-aged children an obligation-free opportunity to see a podiatrist this month.
During the month of January, Entire Podiatry are offering free 15-minute podiatry consultations for school-aged children. The purpose of these consultations will be to provide some basic education on choosing school shoes, including any advice with regard to further podiatry needs that may be identified.
If you have any concerns about your child's feet, then this is an ideal opportunity to seek complimentary professional advice.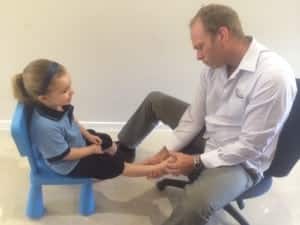 How can I book a free consultation for my child?
You can book a free 15-minute consultation for any school-aged child by contacting your nearest clinic directly, or Freecall 1800-4-368473 (that's 1800-4-ENTIRE). A limited number of appointments will be made available, from 1 to 31 January 2014 only.